2012 Crystal Achievement Award Winners
Vytex Windows
Laurel, Md.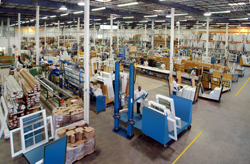 Quality products, great service, dedicated employees, professional installation crews and a safe efficient, state-of-the-art working environment together result in satisfied, loyal customers. Vytex Windows has operated by this manta for 24 years. It sees its employees as its most valuable asset. Diverse in ethnicity, language and customs–more than 30 nationalities–they are united by a bond of trust in each other and in management to provide them with the best possible machinery and a comfortable working environment. This results in outstanding quality levels in all products manufactured, officials point out.
Manufacturing team members know that through constant cross-training, Vytex provides new opportunities that foster growth within the company. The cross-training program keeps employees challenged, motivated and involved. They know they play a significant role in helping the company make the manufacturing process safer and more productive. They know their opinions are important in the decision making process.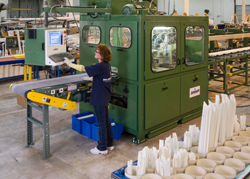 Vytex's dealer customers will confirm the importance of the workers at its plant. They take pride in bringing their homeowner customers to the facility, where the customer is guided on a tour of the factory and allowed to meet many team members and ask questions about how windows and doors are made. The homeowner leaves with confidence knowing they have seen first-hand the technology that will be employed in the manufacture of their new windows and doors and the caring quality of Vytex employees whose goal is to exceed customer expectations every day.
The modern 160,000-squre-foot manufacturing plant is equipped with the latest achievements in window production technology, controlled and monitored by the Winsys software system. The system allows for careful, detailed management of scheduling, manufacturing, finished goods and shipping functions of the company. This control guarantees that 100 percent of the scheduled production is competed each day. In the past four years, Vytex has spent more than $3 million adding several multi-profile cutting stations, sash fabrication centers, CNC corner cleaners, quad-stack four-point welders and VyCore foam filling equipment for to enhance its frame and sash production.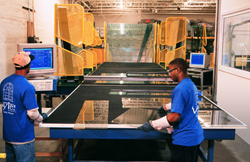 In addition, colorizing the exterior of its windows has grown exponentially, it reports. It now offers 26 standard colors as well as custom colors. In 2011, it coated 102 different colors on its window and door products. Other valuable options offered to customers include simulated divided lite technology that enables the company to offer the look of a wood divided lite sash, Vywood paintable stainable interior woodgrain laminates and a Bavelloniglass beveling machine that cuts V groove patterns into the glass—including both standard and custom designs.
At the heart of the manufacturing facility is the T.A.P.E. (Total Automated Producton Eqiupmemt) insulating glass line. Operated by four well-trained team members, the line is capable of producing in excess of 1,000 IG units per shift using the company's warm-edge Duratex spacer system. This allows Vytex to offer customers a multitude of glazing and grid options, including krypton filled triple-glazed IG units achieving thermal values as high as R-8. In 2011, the company introduced R-5 glass in a dual-pane configuration but without the traditional hard-coat low-E glass, it reports.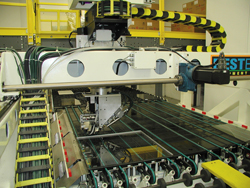 Vytex dealers appreciate the fact that it not only provides very energy efficient windows, but the manufacturer values their feedback about its product. This feedback has helped drive the steady stream of new products, options and enhancements.
Other important initiatives at the Vytex plant include a sophisticated quality control program which provides daily measured results to all team members. Diligence in maintaining the program has resulted in each individual team member stepping up to provide the best possible quality in of the company's window and door products. Each employee looks forward to viewing the "Quality Performance Results" each day. Each employee has pride in ownership for a job well done.
The company also instituted the "Green Theme" several years ago. A company-wide recycling program encompasses glass, vinyl, aluminum, steel and cardboard. The manufacturer also seeks to minimize the use of power in the production of its windows and doors. Team members have embraced a leadership role in making the planet a better, safer place to live.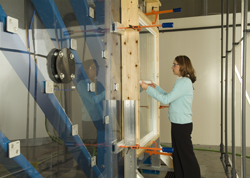 Well trained employees—coupled with the latest technology—has resulted in Vytex being a most innovative manufacturing facility. The company receives a multitude of notes, letters, emails and phone calls every week letting them know just how pleased homeowners are with their new windows and doors. More importantly, these messages always make clear how impressed dealers and homeowners are by its caring people—the heart of Vytex, executives conclude.