The Vytex Potomac-hp Series is one of the world's most efficient replacement window systems; providing up to R-6 performance. One of the strongest welded window lines in the industry, Vytex Potomac-hp Series replacement windows are manufactured from the highest-grade materials and tested to meet or exceed industry standards and make them on of the best vinyl replacement windows you can choose for your home. They're virtually maintenance-free, and will keep their like-new beauty and performance year after year.
Window Anatomy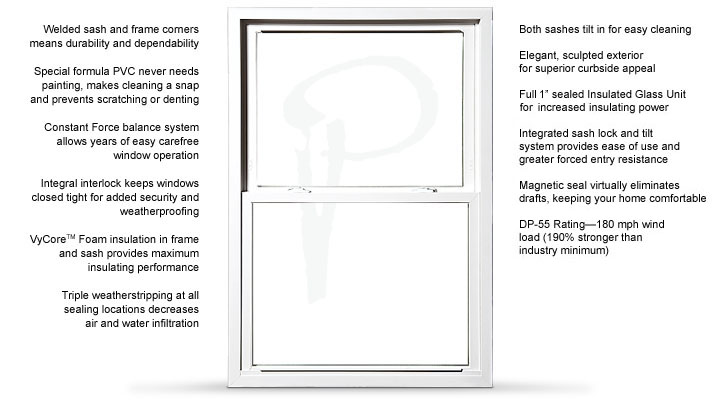 Features
Super Insulation
Glass Options
Our Potomac-hp Series replacement windows offer you a variety of optional features to increase the energy efficiency of your windows, including:
Only the Potomac-hp Series offers you your choice of three complete high-performance, energy-saving glass packages: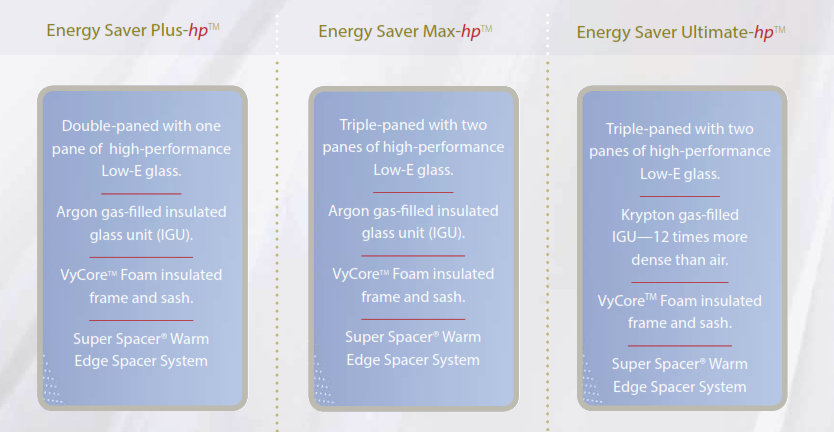 Color Options
Introducing the VyWood™ Window—Vytex Potomac-hp Series windows are the ultimate in premium windows, combining style, performance and efficiency to enhance your home's character and maximize your energy savings. Potomac-hp Series windows are now available in VyWood™ paintable, stainable interior laminate.
With VyCoat™ you can choose windows offering an array of colors, creating magnificent views. You can give your home roadside appeal, outstanding weatherability, years of color reliability, added value, and lasting distinction.
Window and Door Profile Coating System:
Waterborne-environmentally friendly.
Excellent exterior coating with superior performance.
Over 25 shades of the color spectrum.
Provides more color possibilities than co-extrusion.
High abrasion and humidity resistance.
Maintains color vibrancy.
Expanded color and gloss retention.
Proven durability in all weather conditions.
No peeling, flaking or cracking.
Specifically formulated to coat PVC.
Long-lasting beauty for the windows in your home.
VyCoat™ is specifically formulated to coat PVC and designed to meet all International Standard requirements.
VyCoat™ is available on window exteriors only and is exclusive to our Potomac-hp Series and Fortis Series.
Due to your computer monitor's settings, actual colors may vary.
For more information about our new Potomac-hp Series windows, download the brochure.